Apollo BondPAK™
Proprietary Epoxy Connection Compound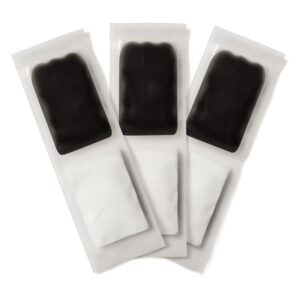 BondPAK™ Proprietary Epoxy Connection Compound is a special-mix, epoxy-type adhesive bonding agent created to bond both hard-drawn ACR Type L, K copper pipe or annealed soft ACR Type L copper pipe and any of their related fittings, brass or brass-coated valves and/or adapters to the pipe itself without the use of open flame torch brazing.   BondPAK provides a high tensile-strength (4,000PSI) grip/bond between the copper and fittings.  It is easily mixed and applied from "in-pack", sets in 6 minutes and is fully cures in 60 minutes.
Traditional brazing is often dangerous and is impossible at times due to cramped and tight quarters, etc – BondPAK solves those issues and more. It is unmatched for repairing pipe cracks and voids.
BondPAK™ Bonding Epoxy is sold in packs of 5 (BP-05) and is also included with our FlexADAPT Product (Refrigerant piping flexible line connectors).
BondPAK™ is a proprietary, patent-pending product owned by Apollo Power Solutions, Inc.
FEATURES:
RATED AT 4,000+ PSI AND FULLY CURED IN 1 HOUR
Quickly bond ALL copper pipe & fittings, aluminum pipe & channels, brass etc.
Repair and completely seal cracks, ruptures etc. of all copper & aluminum pipe
Repair refrigerant leaks, water leaks at brazed or soldered joints
EXCELLENT solution for reversing valve replacement
ELIMINATES:
Flare fitting leaks
Access Valve Brazing Connection Failure
Fire watch labor
Open torch flame & supplies, excessive pipe fittings
Burns and fire hazards due to open flame in tight & space confined quarters during repair operations