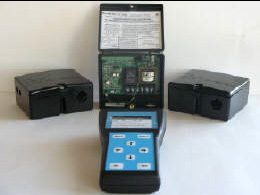 PressuRITE™ is a 3-function digital refrigeration pressure controller that provides unlimited compressor functions – hi-pressure, lo-pressure and oil pressure. Infinitely adjustable pressure set-points along with programmable anti-short cycle delay, full-range differential between ON and OFF set-points are programmable via a hand-held programmer…an "SUT" (set-up tool). It is Network capable and communicates via BACnet compliant protocol.
PressuRITE solves a myriad of problems for both technicians and distributors: It is a universal application – one model fits every use which solves huge stock/inventory issues for distributors and time/headaches for technicians. It is digitally accurate vs the other products which have remained the same for over 40 years. It CANNOT leak refrigerant like the others which solves a huge problem of being environmentally friendly.
PressuRITE is a solution for:
Stores of all sizes can benefit from our PressuRITE technology. A substantial percentage of refrigerant loss (up to 56%*) is allocated to HVAC/refrigeration mechanical rooms. By replacing the older mechanical pressure switches, PressuRITE will stop refrigerant leaks cause by broken capillary tubes and seeping bellows. This common problem has been accepted as standard maintenance. Save money on refrigerant, down time, product loss and expensive repairs in addition to superior protection & control. PressuRITE is environmentally friendly.
FEATURES
PressuRITETM
All Other
Manufacturers
ANY REFRIGERANT

Mark

Mark

ANY PRESSURE

Mark

ANY SET‐POINT/ANY RANGE

Mark

NO MORE REFRIGERANT LOSS
FROM BROKEN CAPILARIES

Mark

110‐130/208‐240 Volt capable and provides 25Amp relay direct‐connection control for ALL HVAC/R COMPRESSORS

Mark

Mark

Adjustable an ‐short cycle delay (0 to 20 minutes in 1‐minute increments)

Mark

Provides oil pressure control for ANY/ALL BRANDS OF COMPRESSORS

Mark

CONTROLS TO 1 PSI ACCURACY

Mark

REPLACES OVER 150 MODELS OF MECHANICAL PRESSURE SWITCHES.
A universal solution for all retrofit or new mechanical pressure controls.

Mark
Dairy Producer Partner Programs are a large part of the American and global economy. Milk production is a highly perishable market. Profits can disappear with any mechanical failure. A dairy's refrigeration operation is critical because the Dairy Co-operatives or Dairy Processors will not take milk that is delivered beyond a certain temperature or has not been chilled and kept chilled at a certain temperature prior to delivery. Profits will go up while product waste will go down. That is why adding PressuRITE technology will further enhance your dairy operations by stopping refrigerant leaks. By using PressuRITE, the money saved will be on refrigerant, down time, product loss, and expensive repairs. A one year "no questions asked" warranty.
PressuRITE technology lowers maintenance labor costs and eliminates expensive refrigerant replacement costs due to control device leaks. But it can also decrease response time from when a problem first arises to resolution. This greatly reduces down-time and potential raw product loss.
An added component of PressuRITE technology is it's "network-ability". Whether a PressuRITE is installed on refrigeration equipment and/or A/C units, it can communicate easily on the store's ethernet network to relay information/data to service technicians remotely and can help diagnose problems before the technician arrives at the store… SAVING MANY MAN HOURS AND DOLLARS that would previously be wasted.
PressuRITE has a separate sensor (transducer) for each function…high, low & oil. These sensors convert the pressure to an electrical signal PressuRITE can read & interpret. PressuRITE can perform 3 or 4 functions depending on the model: low, high, oil and condenser fan cycling. Programming is simple and can be done with a SUT (set-up tool).
PressuRITE is housed in a NEMA 1 enclosure. Accuracy is +/- 1 psi for the range being sensed by PressuRITE. Calibrating the pressure transducers prior to putting PressuRITE into service is critical because the procedure "matches" the transducers to that specific controller AND compensates for the atmospheric pressure at the controller site before the sensors are installed to ensure complete accuracy. The transducers can be removed and used on a different PressuRITE but should be re-calibrated prior to using again.